Ditch your Piano Teacher and Switch to an Online Course?
Hang on, let's not throw the baby out with the bath water! Time-tested methods to piano learning still apply.
The best way to learn piano in 2023, however, is different than it was twenty years ago. New technology has opened up doors to more efficient learning and more cost-effective approaches. With online courses, interactive apps, video tutorials, and video conferencing, students have more options to explore the piano than ever before.
In this post, we'll look at piano learning options today and how to navigate those options.
Choosing your Instrument
It is difficult to beat the musical experience of an actual acoustic instrument. But for many of you out there, an acoustic piano is impossible to accommodate for reasons of budget or space.
There's a wide range of keyboards out there – digital pianos, digital workstations, stage pianos, and more! But if you're looking for a digital piano with good piano sounds and a basic control scheme, here's our quick buyers' guide for you:
Digital Pianos, Quick Buyers' Guide
Best Beginner Keyboard
Yamaha PSR E373
Best Digital Piano under $600
Roland FP-10
Best Digital Piano under $2000
Kawai ES920
Choosing your Method
When it comes to learning piano, there is no "Best Method". Your schedule and personal learning style should be carefully considered before embarking on a course or teacher.
Learners of piano today typically follow one of the following three learning approaches:
The Traditional Approach: Taking lessons with a teacher, in person. One-to-one or group lessons.
The Technological Approach: Enrolling in an online course, or teaching yourself through video tutorials and apps
A Bit of Both Approach: Touching base with a teacher to check your progress in an online course or taking private lessons online.
*A Quick Note on Self-Teaching
DIY types might want to try to learn through piano books and playing by ear. However, without interaction with others, learning is likely to be hindered.
That said, if you want to get up to speed and save some money before you start with a teacher, a piano book curriculum like the Faber Piano Adventures piano books can get you going.
The Faber series tends to be more interesting than the typical "Twinkle, Twinkle, Little Star" offerings in piano books. Also, the curriculum has great ways to motivate musicality in your playing.
The Traditional Approach
Taking Private Lessons One-on-one with a Teacher
If you're serious about learning the piano, eventually, you're going to need a private teacher.
One-to-one lessons with a piano teacher offer several advantages. First, a teacher can provide personalized feedback and tailor their teaching style to match your learning style. Second, a teacher can hold you accountable for consistent practice and help you set realistic goals to track your progress.
What a teacher can do for you that no online course or app can do is address musicality in your playing, and assess your posture and technique in a way that only a person in the same room with you can do.
The main drawbacks of a private teacher are always cost and scheduling. It can be expensive. Additionally, finding a teacher who is a good fit for you is no small challenge. And, not all teachers may be able to accommodate your musical interests.
Taking Group Lessons at a Piano School
Group lessons at a piano center offer several benefits. First, they are typically more affordable than one-to-one lessons, making them a great option for those on a budget. Second, group lessons offer a sense of community and can be a fun and social way to learn piano. You can meet other students who share your musical interests and learn from each other.
The disadvantage of group lessons is that they often cover a standard curriculum that is not tailored to your specific needs. There are many piano schools, for example, that teach only the Suzuki method.
In these courses, the priority is to cover the basics of the method while your personal needs are secondary. In addition, the pace of the lessons may also be affected by the varying skill levels of the students in the group.
Find a Teacher or Piano School – Links
The Technological Approach
Online Courses
Online piano courses, designed to teach students how to play the piano through digital content accessible on a computer or mobile device, are definitely worth trying if you're learning piano.
Some of the online courses teach aspects of piano learning better than any other method out there.
For example, we are huge fans of the sight reading tool included with Piano Marvel. With video game-like rewards and forcing you to keep reading ahead, this actually teaches you to sight read better than any previous method I have seen.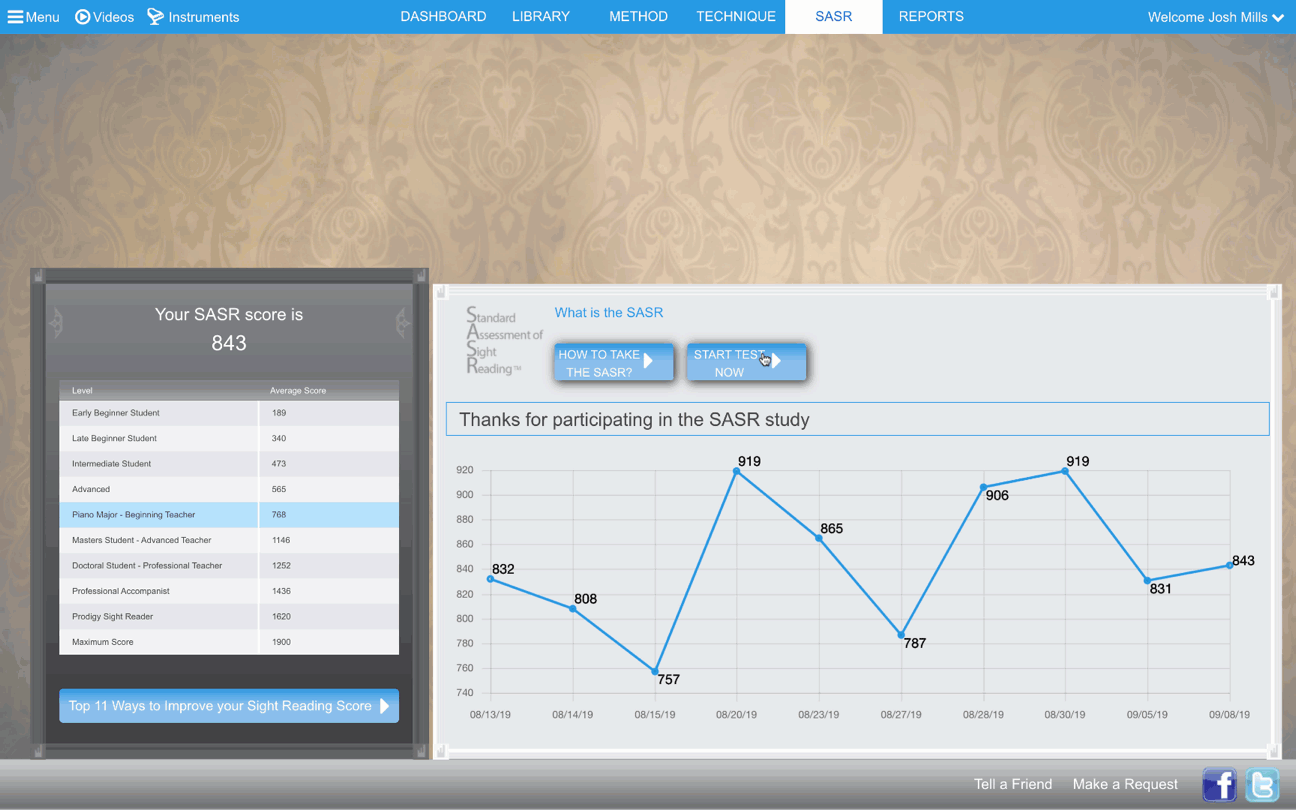 The course Piano For All focuses on playing pop songs, rhythm piano, and improvisation. Many of the grooves cannot be accurately written with notation. The course videos make what normally looks difficult, very easy to learn.
Here's an intro video below:
Most courses work with acoustic pianos, keyboards, or digital pianos.
Some courses allow you to connect your phone, tablet, or computer to a keyboard or digital piano. These courses track your progress in real time. The software can tell you if you are playing in time and tell you which notes you played incorrectly.
See here for all of our reviews of online piano courses.
Best Online Courses
The secrets of self-taught players are revealed in this beautifully thought-out course. Short, effective lessons; great for those fed up traditional learning methods; one-time fee ($39). (see our complete review)
A comprehensive, well-designed piano learning platform with an extensive library of songs and performance pieces. Fantastic sight reading tool, great for learning fundamentals, good price. (see our complete review)
The best online course for children. The courses are specifically designed for kids with games and engaging lessons.
A crash course with an emphasis on popular music. Fast-paced with instant feedback on your playing.
Videos and Tutorials
For many, simply watching videos and tutorials is an attractive option. We find the use of videos and tutorials most effective if you are looking to learn a specific approach to the piano or style of playing.
For example, if you are interested in learning jazz piano, something like the Herbie Hancock tutorials on Masterclass is a treasure trove of information and truly inspiring.
Or perhaps you want to focus on music theory. This is also a very effective way to learn the piano for many learners. Music theory can help you understand the structure and composition of music, enabling you to play more proficiently and improvise with greater confidence.
Something like the The Complete Piano & Music Theory Beginners Course on Udemy lets you focus on theory and pay just a one-time fee.
Best Piano Tutorials and Videos
Herbie Hancock Teaches Jazz
Masterclass
A masterclass about listening and improvising on the piano taught by jazz legend, Herbie Hancock. For those with some experience looking for new inspiration. Subscription based with access to the entire Masterclass library.
The Ultimate Play Piano By Ear Course
A good tutorial for beginners who prefer learning by ear. One-time fee.
The Complete Piano & Music Theory Beginners Course
by Musicians Inspired, Udemy
An efficient way to learn theory for the piano without spending a lot of money. One-time fee.
A Bit of Both Worlds, the Mixed Bag Approach
Private Lessons Online
There is also the option to take private one-to-one lessons with a teacher online using video chat. With online lessons, you can learn from anywhere and avoid the hassle of commuting to a teacher's studio. Online lessons typically take place over video chat, allowing you to see and hear your teacher in real time.
During online piano lessons, your teacher can provide personalized feedback and instruction, just as they would in person. They may also use screen-sharing and other tools to demonstrate techniques and provide visual aids. You can still ask questions and receive immediate feedback, making it a highly interactive experience.
That said, online private lessons are still a compromise. You don't get that visceral musical connection, nor the true human connection with a teacher.
Also, keep in mind that you are limited by the quality of your connection. Internet speed, good cameras, and good microphones can make all the difference.
Tip: Best of Both Worlds Option
Using a mix of online courses and a private teacher can be a very cost-effective, thorough approach to learning the piano.
For example, with an online course like Piano Marvel, students have the option of finding a certified Piano Marvel teacher who can give personalized instruction via video chat on musicality and technique and assess their progress through the app.
Frequently Asked Questions
How long does it take to learn the piano?
Shockingly, people still ask this question all the time. I mean, how long is a piece of string? Consider piano learning like learning a language – how much of the language do you want to learn?
That said, here's a quick guestimate for you:
How Long does it take to learn piano? – Guesstimate
To play basic one-handed melodies
Within a few weeks to a few months
Within a few weeks with regular daily practice
To coordinate two hands playing classical pieces with harmony and melody at the same time
With consistent practice, anywhere from several months to a few years.
There is no substitute for dedicated, consistent practice. Sorry, I wish I could tell you otherwise.
Set realistic goals and celebrate small victories along the way. With patience and perseverance, anyone can learn to play the piano.
Questions or Comments?
We would love to hear your thoughts and questions. Follow the discussion here on Facebook.