Overview: Piano Marvel Review
Piano Marvel Review
Our Rating: (out of 5)
4.8
Pros
Well-rounded piano learning platform with solid fundamentals in theory and technique
Best sight reading tool online
Avoids overwhelming students with new material by breaking everything down into smaller sections
Practice and play modes help students progress faster and avoid getting bogged down on one thing
Ability to print anything from the extensive library with over 25,000 exercises and songs
Free trial account
Cons
Needs more video lessons to support solo learners on ideas of posture and hand position
Method pieces could be more interesting
Cost
Free account – access to the first 200 exercises, 125 songs, and 3 sight reading tests
Full access Premium Account – $12.99 per month with the code GreatestSong (normally $15.99 per month)
Annual Premium Account – $110.99 per year
What's Included?
Over 25,000 songs and exercises
Method and Technique Curriculum
Additional Method and Technique books from Hal Leonard, Alfred, and FJH Music Publishers as well as numerous universities.
Tools for Sight reading, Ear training, and a Curriculum for drummers
Platform designed for teachers with reporting and the ability to upload your own music.
Bottom Line: Piano Marvel Review
A comprehensive, well-designed piano learning platform with an extensive library of material at a great price.
Introduction: Piano Marvel Review
The piano has so much to offer. Few instruments can play percussion, melody, and harmony all at the same time. No other instrument is so widely available and so versatile.
Therefore, in learning the piano, you have a lot of material to cover. There's no lack of information in our age, but what we lack are well-thought-out ways to take it all in.
Piano Marvel is an online piano learning platform with the bold aim of helping students of all levels "master the piano". Piano Marvel claims that with this platform, on average, a student can make "four times faster progress than traditional teaching methods."
It seems to be everything you would want in an online learning platform. We tested it out extensively to see if this holds true in practice.
See here for all of our reviews of online learning courses for music.
How does Piano Marvel work?
Piano Marvel works by connecting to your digital piano or keyboard via USB or MIDI cable to your computer. It is compatible with both Mac and PC computers via your browser or the IOS Piano Marvel App on an iPad.
You may need to download an additional driver from the manufacturer of your keyboard. We tried it with Yamaha p45 digital piano on a Mac and on an iPad. It was plug-in and play for us, with no technical hitches.
It is a subscription-based service. Priced at $15.99/month, $110.99/year.
Using the code GreatestSong, you can get 20% off the monthly rate, making your cost $12.99/month instead of $15.99/month. See here for details
Piano Marvel works best with digital pianos but also can be used with acoustic pianos and keyboards.
With the 'book mode' for acoustic pianos, you will have access to all the music and lessons on the platform and all of the features except those that assess your performance.
Who is this course for?
Piano Marvel is suited for:
Beginners who want solo learning online with a solid foundation of fundamentals in theory and technique.
All students interested in classical music
Children with a teacher
Anyone looking to improve sight reading skills
Students with a teacher looking to use their private lesson time more wisely – drilling notes, rhythms, ear training, scales, and sight reading with Piano Marvel while using private lesson time for technique and musicality.
Music majors in university
Who is this course NOT for?
Piano Marvel is not suited for:
Beginners who want to learn "fun stuff" quickly
Students who would like to practice improvisation
Anyone looking for an extensive library of Pop and Jazz
Overview of the Features
Let's cover the main sections and features of the platform first and then after we will discuss our favorite bits and our criticisms.
The Library
The Piano Marvel library is extensive. By that, we mean over 25,000 songs and piano exercises. This includes method and technique books from Hal Leonard, Alfred, and FJH Music Publishers.
Hidden away inside the method books of particular schools and universities, you can find some really good pieces and arrangements, all with the same online interactive features and tools available. For example, the Royal Conservatory of Music and Brigham Young University have their curriculum books publicly available.
In terms of genre, the performance pieces and songs are mostly classical, and there's enough here to satisfy any classical enthusiast. There's also a huge selection of traditional hymns and church music.
And, though the selection is significantly smaller, there is a fair sprinkling of pop songs and jazz starter pieces.
With most any song in the library, you can choose different arrangements to suit your level of play. Unlike most online piano learning platforms, Piano Marvel offers the actual scores written by the composer as well as arrangements for different levels.
Method
The Method section contains the core lessons of the curriculum with 6 levels, each broken down into 5 subsections (A-E), each subsection with 20 lessons to complete.
Technique
The Technique tiers correspond with the Method section, with the same overall organization (6 levels, 5 subsections (A-E), 20 lessons in each subsection). [image of technique page]
As you would expect, this section is coordinated with the corresponding Method level.
In other words, the drills of hand positions, scales, intervals, and counting exercises here all support the Method level lessons you are currently working on.
This section is heavy on theory with loads of flashcards, ear training, and harmonization exercises.
Sight Reading Assessment
The Sight Reading Assessment section, or SASR, is a game-like approach to sight reading. (It is also one of our favorite aspects of Piano Marvel, more below…)
You begin by choosing your starting level. (in this case beginner, intermediate, or advanced) You have 20 seconds to look over each example you have to play and then the timer is on and you cannot stop or repeat.
The goal is to stay above 80 percent, three failures to do so, and your assessment comes to an end. The examples you must play increase in difficulty until you eventually break down and cry.
A Tool for Teachers
Piano Marvel doesn't pretend to be a better solution to piano learning than a live teacher. In fact, it is designed to be a supporting tool for teachers.
As a platform for teachers, schools, and universities, Piano Marvel offers clear reporting where you can see what, when, and for how long your students have been practicing.
Teachers can create their own lessons and upload their own music. With Sibelius or Finale or a similar program, this can be done quite easily by uploading midi and XML files of each piece.
As a result, everything you upload can be used by your students with the same interactive tools as anything in the Library.
There is even a 'Find a Teacher' section on the linked Music Marvel page where you can search for Piano Marvel certified teachers.
Extra Motivations
Piano Marvel makes efforts to give extra motivation to students in numerous ways.
Trophies, badges, stars, and certificates of completion that you find in traditional teacher settings are given with each lesson, section, and level completion.
Because it's all in one place, and you can see all the levels that you might one day reach, there is a video game-like sense of leveling up. The platform gives an overall impression that learning anything is possible if you just break it down into smaller steps.
And for those who want more, who yearn to compete, they even have online challenges.
For example, there is a monthly Method Challenge where each 100% score will enter you enter a lottery for an amazon gift card. Or, there is an annual youtube competition with cash prizes.
The Best Bits
The Best Bits: The Site Reading Tool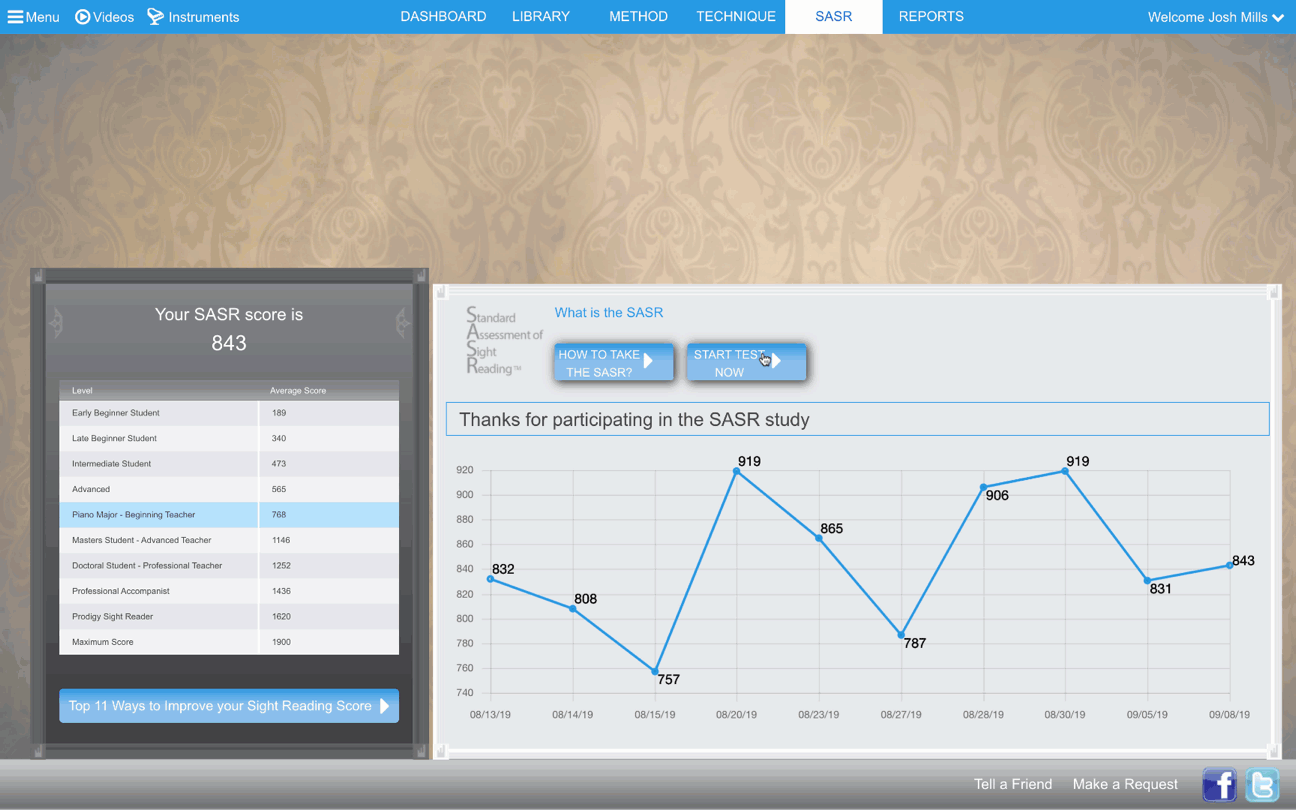 Being able to sit down and read an unfamiliar song or piece of music is an invaluable skill as a musician. Piano Marvel's SASR tool is the best tool for sight reading I have seen.
Sightreading pieces by yourself is neither motivating nor easy to do in any practical way. The SASR tool is really fun to use and challenge yourself with. And, you can do it every day quite easily.
The Best Bits: The Slicing System
As stated earlier, one of my favorite things about Piano Marvel is that it gives the student a sense that anything is possible to learn by simply breaking things down into smaller steps.
To avoid feelings of overwhelm, Piano Marvel has a 'slicing' system that allows you to break any piece down into smaller bits. Whole, Chopped, or Minced.
The Best Bits: More Nuanced Levels
For all the exercises and pieces in the method, technique, and library sections as well as the sight reading assessment, Piano Marvel's levels of difficulty are not just limited to beginner, intermediate, and advanced.
Songs in the library have 18 different levels of difficulty (1 early beginner, 18 Pro) and the sight reading assessment is rated anywhere from 0 to 1900, ranging from 'Early Beginner' to 'Prodigy'.
This seems a more realistic take on the broad scope of piano learning. The system allows for the differences between an early and late beginner. It also acknowledges that once you know all the major and minor keys, you are still a long way from being a pro.
The Best Bits: Modes to keep you going forward
When you're working with the score in Piano Marvel, whether it's in the library with songs and performance pieces or in the method or technique sections, you always have the option (at the bottom of the screen) to use 'Practice Mode' or 'Play Mode'.
The practice mode allows you to learn the notes out of rhythm. But there is no option to go back, in other words, once you play the correct note you are forced to keep going ahead.
In Play Mode, you are given a count in and forced to play in time. At the end of the piece, you are given the results where green notes are correct, red notes are incorrect.
We liked that these modes are tools to address the common piano learning problem of getting bogged down. Quite often students of the piano focus on one section of music so much that they never get past it and eventually give up entirely.
These simple tools, practice and play mode, effectively keep you going, so you can see the bigger musical picture.
The Best Bits: Print Anything
Another feature we liked is the ability to print any piece either as a pdf or paper version from the library, method, or technique sections. This is a useful basic function that is often omitted from other online programs.
The Best Bits: More than Just Notes and Rhythms
Because there's so much to cover with the piano, most online platforms only get around to covering notes and rhythms. This can lead to some pretty robotic playing and a lack of understanding of the theory behind the music you are playing.
Piano Marvel does a nice job of applying music theory to the method lessons. For example in Level 4, to get a feel for functional harmony, you are asked to play Twinkle, Twinkle Little Star in multiple keys with I, IV, and V chords underneath.
Additionally, I really liked the fact that ear training is part of the technique lessons starting with Method and Technique level 1. And dynamics are not forgotten either!
Criticisms
Needs More Video Lessons
There a numerous videos in Method Level 1 explaining some basic musical concepts but then there is a large gap. Not until Level 6 is there another video, and there, only one.
What's missing here is consistent reminders about the importance of posture and hand position that would be useful for students without a teacher.
Method Pieces Could be More Interesting
Although the curriculum seems well thought out with the Method and Technique sections in terms of step-by-step learning, the actual songs used could be more interesting.
For example, Chopsticks, Peter Peter, and Twinkle Twinkle are unlikely to excite most adult learners.
Alternatives to Piano Marvel
The Ultimate Play Piano By Ear Course
by Kingsley B-Nkrumah, Udemy
A good course for beginners who prefer learning by ear. One-time fee.
The Complete Piano & Music Theory Beginners Course
by Musicians Inspired, Udemy
An efficient way to learn theory for the piano without spending a lot of money. One-time fee.
Herbie Hancock Teaches Jazz
Masterclass
A course about listening and improvising on the piano taught by jazz legend, Herbie Hancock. For those with some experience looking for new inspiration. Subscription based with access to the entire Masterclass library.
Check out our Best Way to Learn Piano for a deeper dive on your options for piano learning today.
Conclusion
With so much material available in the Library, a great sight reading tool, and a thought-through, well-rounded curriculum on an easy-to-use interface, there's a lot to like about this platform.
Piano Marvel claims to be on average "four times faster progress than traditional teaching methods."
While it struck me as a typical marketing language when I first read it, now, after trying it out extensively, I think the statement is probably true.
Frequently Asked Questions
Is Piano Marvel good for beginners?
Definitely. We would recommend Piano Marvel for any beginner over 16, especially those who want to learn to read music. For children, it works well when combined with a teacher.
Does Piano Marvel work with acoustic piano?
Yes. Using 'book mode' for acoustic pianos, you will have access to all the music and lessons on the platform and all of the features except those that assess your performance.
Do you need a teacher to use Piano Marvel?
No. It works well for solo learning, especially for learning the fundamentals of reading music, theory, and ear training.
Ideally, you would have a teacher as well. You could save a lot of time and money using Piano Marvel for notes, rhythms, and sight reading. This would allow you to use the valuable time with your teacher focusing on technique and making music.
Questions or Comments?
Join the discussion here on Facebook.